Epilepsy Anti-Suffocation Pillows (often shortened to epilepsy pillow) are breathable, which helps allow free air flow, and for fluids to drain away.
For people with epilepsy, a seizure in bed might pose a risk of suffocation through restriction of breathing if the seizure pushes the person's face into the pillow. Using an Anti-Suffocation Pillow (epilepsy pillow) can help ensure that breathing doesn't become obstructed during a seizure, enhancing individuals' safety and offering reassurance to families and carers.
Studies have shown that up to 45% of people with epilepsy mainly have seizures during the night. So if you worry about you or your loved one having a seizure during the night, the Epilepsy Anti-Suffocation Pillow can help put an end to your worries… meaning you will also benefit from a more restful nights' sleep.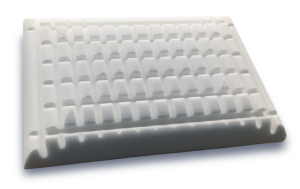 Made of a special material, which ensures that breathing won't be restricted if you or your loved one has a seizure during the night
Reduces the risk of SUDEP (Sudden Unexpected Death in Epilepsy), meaning that you can sleep soundly knowing that you or your loved one will be safe
The pillow is deliberately firm in order to reduce the risk of suffocation, if a seizure occurs at night
Recommended by the British Epilepsy Society, for extra peace of mind
We recommend using our anti-suffocation pillowcase with this product.
This product is not suitable for children under the age 6 years.
Please see our paediatric pillow anti-suffocation pillow.
Please note: For hygiene reasons, we cannot accept returns of this epilepsy pillow unless faulty.